How to Avoid Uniform Ordering Mistakes
Ordering uniforms doesn't have to turn into a nightmare. Your uniform provider should help you minimise as much risk as possible, and ideally invest in technology to bring even more efficiency to the process. Here are a few tips to ensure that the ordering process is easy and error free.

How to Approach Colour in Corporate Uniforms
Just because it's in your branding colour palette, doesn't mean that you should choose garments in colours to match. Remember your goal is to present your staff in the best light possible. Putting them in a bright coloured uniform may be consistent with your brand colours, but may not be flattering or make your team feel comfortable. In our experience it is the unique details, such as a contrast plackets or collar lining, and accessories such as a custom lapel pin and pocket square, on simple garments that work best. When you have a large number of staff in one place, such as a retail store, they should look cohesive, stylish, and professional, but not over the top with in-your-face branding. It's all about finding a solution that will complement your colour palette and be practical in application.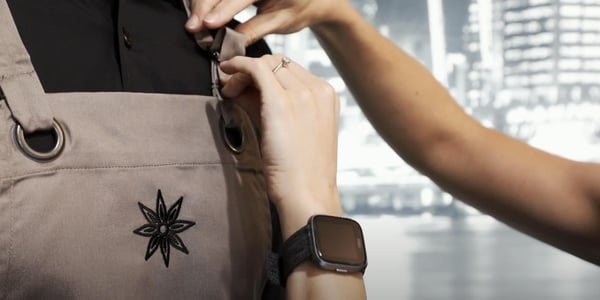 Adding Logos to Your Staff Uniform
When embellishing your logo on garments, we recommend you think carefully about where the logo is positioned, what colour it is, and how it contrasts against the material used. In some uniform programs, you may have a range of different coloured materials you are working with. Ask your uniform provider to arrange mockups of how the logo can look across the garments (or fabric) that makes up your corporate uniform range. We also recommend you get print and embroidery samples if you need to check the colours and quality beforehand.
Proofing Your Uniform Design Artwork
Have you ever heard of the phrase "a fresh pair of eyes"? This also goes for checking and proofing your order and embellishment mockups. Ask a couple of people to proof the design mockup before you place the order. Samples are available as well, so you can double-check colour and quality of the garment material and embellishment.
What You Need to Know About Uniform Fit
There are two ways to check the fit of a garment. You can take standard measurements of each of your staff members and use a Measurement Guide to check which size would suit each person, or you can order a "Sizing Grid". A Sizing Grid is a physical sample of your garment(s) in a range of sizes that your staff can try on and choose which size they feel most comfortable in.
This shifts the responsibility to the employee to self-select the size they want to order.
Your uniform provider should offer heavily discounted rates on Sizing Grids. In our experience, many clients find them really helpful if they have large numbers of staff. To avoid the samples going walkabout, ensure the garments are labelled as samples – such as embroidering "SAMPLE" in a conspicuous place on the garment – and you can use them on an ongoing basis to check sizes for future orders.
Read our article Solving the Sizing Challenges in Staff Uniform Rollouts for the low-down on sizing and fit or The Secrets To Eliminating Risk With Uniform Procurement to help you manage the uniform procurement process like a Pro!