Material Matters! 4 Key Considerations for Quality Corporate Uniforms
A well designed, corporate uniform doesn't happen by accident. There are a number of key considerations, including fabric quality, embroidery quality, fit quality and styling quality that need to be thought of to ensure a quality uniform program for your business.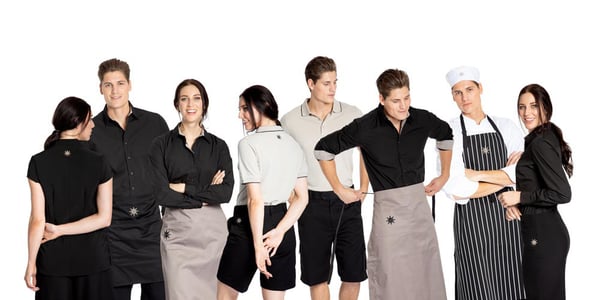 Without giving these factors the attention they deserve, your uniform program can have far reaching and unexpected consequences.
For example, if you use a low quality fabric that breaks down easily or fades over time, this can result in costly replacements. Even moving beyond manufacturing considerations, if the styling or fitting quality of your uniforms is suboptimal, this can impact your team's willingness to adopt the new garments, or how the team presents to customers.
If you're not used to procuring uniforms, this article highlights what to look for to find the best fabric, embroidery, fit and style for your corporate uniforms.
1. Fabric Quality
Considering the quality elements of a custom corporate uniform may seem like an overwhelming prospect, but it's easy once you break it down. To start with, let's consider the underlying element of all uniforms – what material it is made of. Although businesses are unique in their uniform needs, there are a set of underlying fabric quality principles that should be used in all the best corporate uniform fabrics.
Uniform fabrics should ideally be made of a high quality material that:
Is durable and can withstand daily wear
Holds on to its colour and applied design
Is easy to wear
Easy to wash (machine-washable)
Low or no iron
For over ten years, Total Uniform Solutions have been revising and honing our fabric technologies to address these concerns, by becoming leaders in this space. Our fabric range has been engineered to include a range of key features, including strong, durable weaving, climate considerate fabrics, moisture wicking and antimicrobial treatments and more. Not only are these quality elements included in our fabrics, they are tried and tested by independent laboratories to ensure that they can be considered the best fabrics for corporate uniforms.
2. Embroidery Quality
Now that you have an understanding of the raw material that goes into a quality uniform, it's time to consider the next step, branded embroidery quality. Embroidery is a complex process that – depending on your provider – can yield varying quality outcomes. When done well, it can be used to recreate your logo in a stitched form that maintains its integrity.
Luckily, as embellishment experts, we pride ourselves on our exceptionally high attention to detail and quality control over the entire embroidery process. By using our in-house industry leading digitisation process and world class machinery, we can take your logo, carefully refine it and reproduce it into embroidery on your corporate apparel.
3. Fit Quality
The third consideration for a quality uniform is how it fits. The fit of a uniform is a quality factor that will affect every one of your company's team members every single time they wear the garments, so it's critical to get it right. Research has shown that employees who feel uncomfortable or embarrassed in their uniforms due to how they look or how the uniform feels are less likely to fully engage in their role or demonstrate pride in their workplace. This personal disengagement is often reflected in their work performance, resulting in suboptimal results for your business.
Thankfully, Total Uniform Solutions considers uniform fit at every stage of the procurement process. We work with clients to find flexible solutions for their business, whether that be through providing a sizing range that employees can try on themselves, teaching staff to self measure, providing online estimation tools or even hosting uniform roadshows. These in depth consultations achieve a greater universal understanding of the variations in body types amongst your employees which are factored into the garment designs. By having an understanding of fit, you'll be able to provide garments that help everyone look and feel their best at work.
4. Styling Quality
Quality styles and branding tone play an integral role in the success of your uniforms, especially as a key touchpoint for your customers when they interact with your brand and your employees.
Brands with well designed and stylish uniforms are proven to be more memorable and have a greater impact on brand awareness and recall amongst consumers. Using modern design and style principles signal to your customers that your company is forward thinking and adaptive to changing environments.
If these principles are considered and incorporated consistently into your uniform program, you can dramatically increase the visual impact of both each individual item, as well as the uniform program as a synergistic whole. Total Uniform Solutions can assist you to achieve this by; curating your garment range, designing an impactful colour palette and by using specialised branding choices.
How we can help
Now that you're aware of the key elements that go into designing and procuring high quality corporate uniforms, you can walk into any uniform supplier with confidence. However, for a team that values these traits as much as you now do, reach out to our expert team via phone, 1300 UNIFORM or email hello@uniform.com.au to get started on your high quality, custom uniform solution.