Stock Uniform or Custom Uniform? Which is right for your business?
When considering developing a uniform program for your business, or revitalising an existing uniform, there are a number of elements to consider. However, one of the most foundational decisions that you'll make in uniform procurement is whether to use stock uniforms, custom uniforms or a mixture of both for your uniform collection.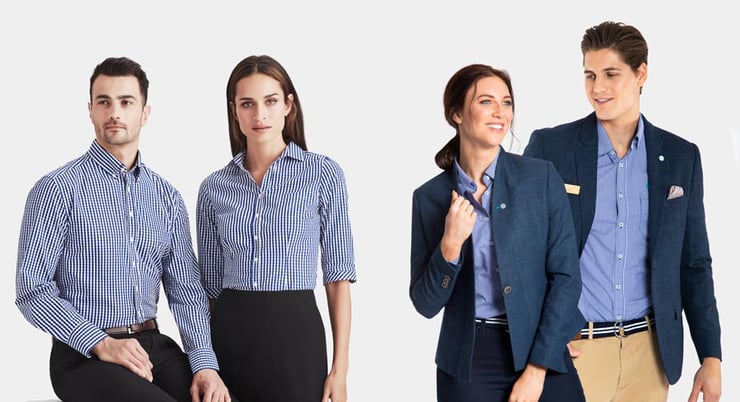 A stock service uniform, also called "ready made uniforms" or "off-the-rack" garment, refers to items that have been already designed to a series of standardised criteria including specific colour range, fabric type, size range and fit. Stock uniforms are typically procured through a uniform supplier or wholesaler. The stock uniform would then be embellished with your company logo using embellishments such as embroidery or digital transfer. For example, a ready made corporate uniform collection for a full time employee could consist of shirts, pants, knitwear and a jacket.
Alternatively, a custom uniform refers to a garment, or collection of garments, which are specifically designed and manufactured to the needs of a business. Custom uniforms can only be procured through a uniform supplier who also has expertise in garment manufacturing and product design, with a proven supply chain.
Both options are reliable, quality choices – however each offers a unique set of traits and benefits that may be more suitable for your business. With the help of your uniform partner, you may end up deciding your uniform program is a hybrid of both custom and stock service uniform items. To assist you in making a choice when you speak to your uniform supplier, this article will profile each option in further detail.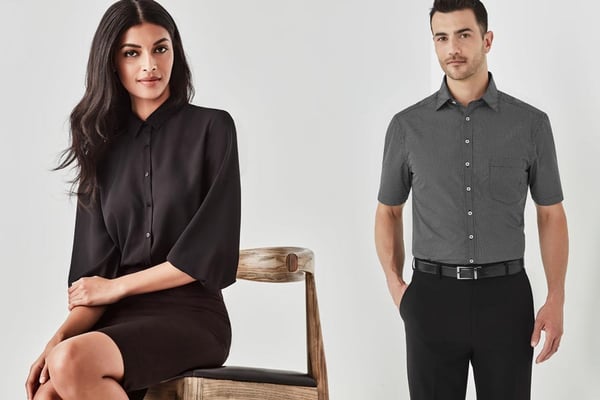 Stock service uniforms are part of an existing inventory that come in a range of colours and styles
Stock Uniforms:
Stock uniforms are cost effective, as the base garment is mass produced, with inventory held locally by the uniform suppliers. Like the name implies, stock garments are ready to go, which is perfect for procurement officers operating on a limited budget and time constraints. Their readiness also means that the turnaround time from order to delivery is typically 7 to 10 working days.
Ready made uniforms can also be embellished with your company's logo to customise the garment with your brand. Typical embellishment methods are logo embroidery, direct to garment digital print or heat-sealed print.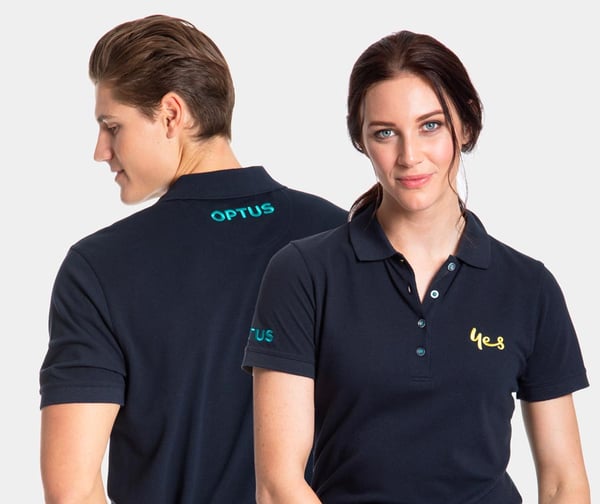 Custom uniform details, such as multiple complex embroidery and contrast button threads to match the brand
Custom Uniforms:
When your uniform provider has control over the manufacturing process, custom uniforms offer a lot more choice in the way the garment is constructed and branded. High levels of customisation is available, from using advanced fabric technology to embellishments and inclusive fits that offer modern styling. This is ideal for larger companies, as purchasing power and production volumes may make this option more cost effective or cost equivalent to stock uniforms.
Customisation also lets you include impactful branding elements in the uniforms, allowing you to create something distinctive. By differentiating your workforce in the market, you amplify positive brand associations amongst consumers.
Designing a custom uniform program offers a large benefit to companies who have a larger workforce and potential order volumes, and the time available to go through the process. For those that go down the uniform customisation pathway, it results in a range that incorporates flexibility in the style, fabric, fit and branding elements, which extend far beyond a logo application.
Customisation also allows for your uniform manufacturing partner to address specific uniform requirements, including a universal sizing profile across the uniform range. Doing so allows for employees to have confidence in ordering the same size garment across the range in their uniform program and achieving the right fit. This approach also typically reduces costs involved in returns due to some garments not fitting properly.
A uniform provider with strong capability in uniform manufacture can offer you more guidance and advice throughout the uniform procurement process, to achieve your desired look.

Hybrid uniform program contains custom tunics, polos and blouses, while the remaining items are stock uniforms

A Hybrid Approach:
Given the benefits of both options, a hybrid program is also a valid, and popular, option. This hybrid approach is useful for businesses that want to utilise the ease of ready made items, while still having some "signature" garments that deliver more impact. This might be for specific roles, or uniform items that have specific technical requirements or qualities that are not available in a stock service uniform.
Whether you want stock uniforms, a customised uniform range, or a hybridisation, the team at Total Uniform Solutions are here to help you find the best solution for your business. Contact with our team via email at hello@uniform.com.au or phone 1300 UNIFORM to start your uniform journey.