Stylish Corporate Uniforms With Less than 10 Items
As anyone who works in an office and who doesn't have a uniform can attest, choosing an outfit to wear every day can be a drag. Corporate uniforms certainly keep things simple for your staff, but one of the hottest trends in 2020 is applying the "capsule wardrobe" philosophy to corporate uniforms.
If you are looking for a flexible uniform policy that allows your employees to express their individuality and still conform to a uniform, this approach could deliver that.
We've chosen 10 items from the Total Uniform Solutions corporate range, that are designed to be mixed and matched. We'll show you how you can create a consistent and coherent look amongst your team, yet still giving them the freedom to choose what they wear to work every day.
All of the options shown below are suitable for embroidery and/or printing – so you can ensure a coherent approach to your branding across the uniform range.
Let's introduce the 10 uniform items...

The Corporate Jacket
Whether you are dressing males or females, the jacket is one of the most versatile pieces you have to play with. Layer it over everything and instantly add a touch of tailored style to your outfit. Usually, one jacket or blazer will suffice, however adding a long ladies overcoat is an option for those looking for extra style.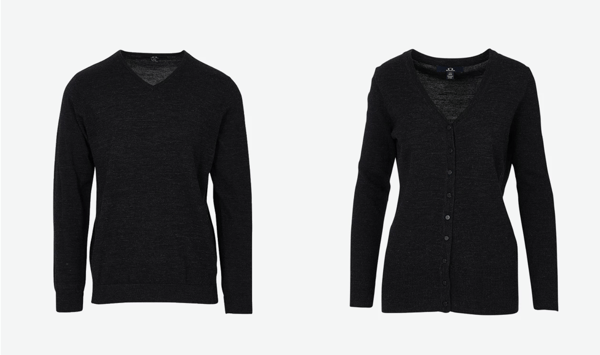 Seasonal Knitwear
For cooler weather months, layering with a knitted vest, cardigan or pullover can be easily introduced to your corporate uniform. Typically, 2 knitwear items will be sufficient for each staff.

The Shirts
Depending on the brand impression you want to portray, select 1-2 colours that work with your brand and source a range of styles that can instantly create different looks. Think about what you'll need to cater to the different seasons and the type of weather your employees will experience. At Total Uniform Solutions, we stock Male and Female styles in a range of brands so you can keep your look consistent across the team. Look for elegant detailing that will bring high quality and fashion-forward vibe to your men and ladies corporate uniform.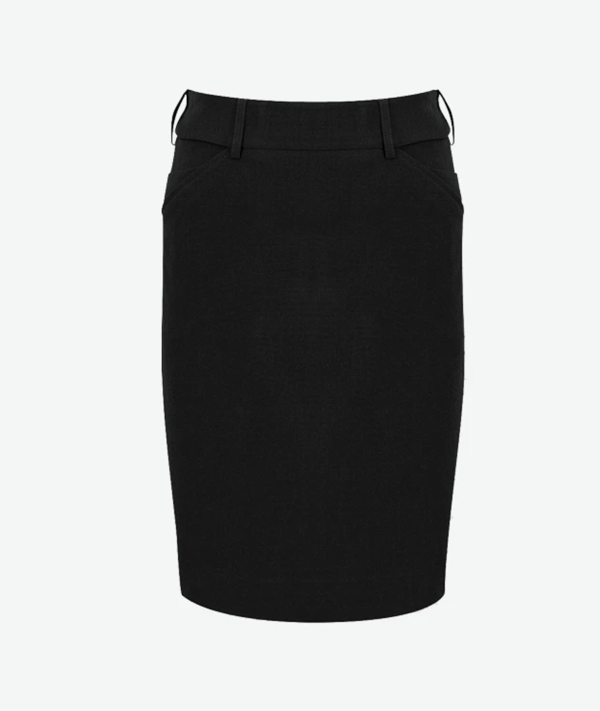 The Skirt (ladies)
For a more feminine option, consider a tailored pencil skirt as an alternative to trousers or chinos. This adjustable waist skirt is a popular option, enabling you to accessorise with a belt. Total Uniform Solutions have a wide range of matching skirts, trousers, jackets and dresses so you can be sure you present a consistent look no matter what you choose to wear.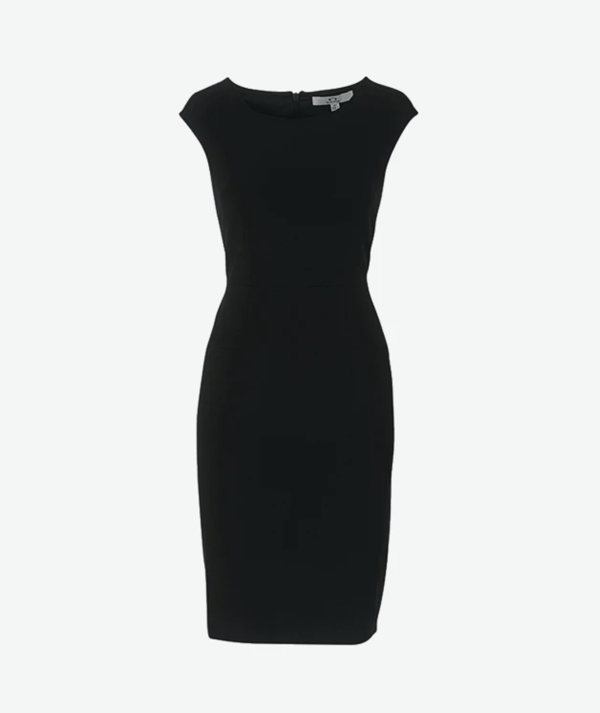 The Corporate Dress (ladies)
A classic shift dress brings more versatility to women's workwear. Choose a well-cut, figure-flattering work dress that can be worn year-round. Select a style that is machine washable as well! The shift dress shown below is fully lined with stretch lining and angled seams, which is not only comfortable but flattering on most figures. Layer with a jacket, knitwear or stockings in cooler weather.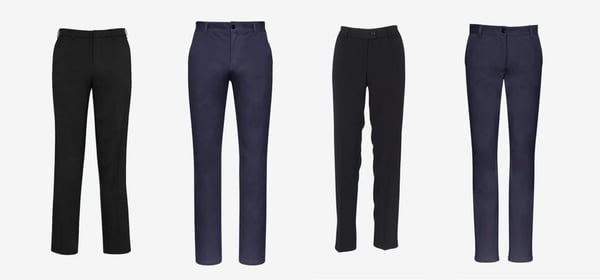 The Trousers
Trousers are one of the most popular corporate uniform items for males and females due to their comfort, practicality and versatility. Depending on the needs of your staff, you may wish to include two styles of trousers – suit trousers and chinos – to introduce a more casual option into the uniform range. Pictured here are matching styles across male and female. Always choose garments that are easy for your employees to care for – machine washable is a must!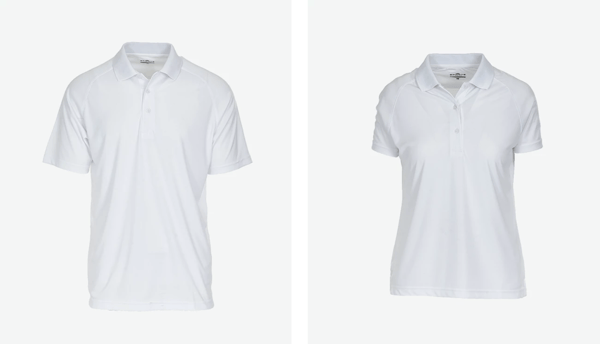 The Corporate Polo
Polo shirts are a brilliant way of adding a more casual feel to your uniform, while still presenting a clean, stylish look. Branding your polo shirt is easy with custom embroidery, and can be personalised to your team member if needed. Better yet, customisation brings a greater level of flexibility (and cost efficiency) to the humble polo shirt for men or women.
For example, if you have a sales team that wants to portray smart-casual vibe, you can use polo shirts to promote your brand or product while still fitting into the company-wide uniform policy. They are easy to wash and wear, come in a range of colours and fabric types. The polos pictured below have moisture-wicking technology built into the fabric to keep your employees feeling cool and fresh all day.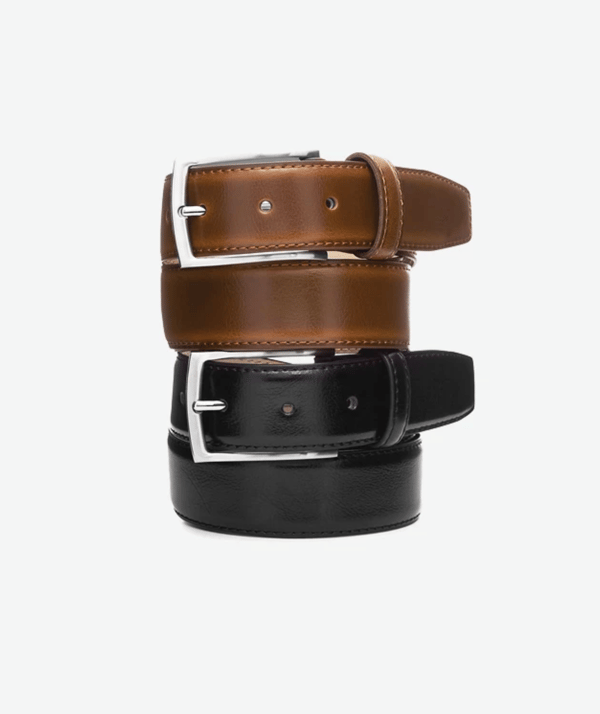 The Accessories
Accessories are vital for pulling your look together in a stylish and practical way – and you can even embellish your items with your corporate brand. Depending on your business, consider belts, scarves, ties, pocket squares or even branded promotional products such as cufflinks, premium pen, notebook or compendium. A Total Uniform Solutions, we can even develop customised accessories for you that add a bit of "wow" to your corporate look. We can even source (and embellish) other items such as compendiums, pens, notebooks, phone and laptop cases, briefcases, bags – you name it, we can get it!
The Outfits
The main benefit of a capsule uniform approach for your workwear is the variety it can bring to your organisation. Whether you choose to give all employees the full range or limit certain "looks" to specific areas of the business, this coordinated, holistic and versatile approach to uniform selection will help you bring a sophisticated and professional image to your business.
Here are just some of the ways you can wear these items to create different looks...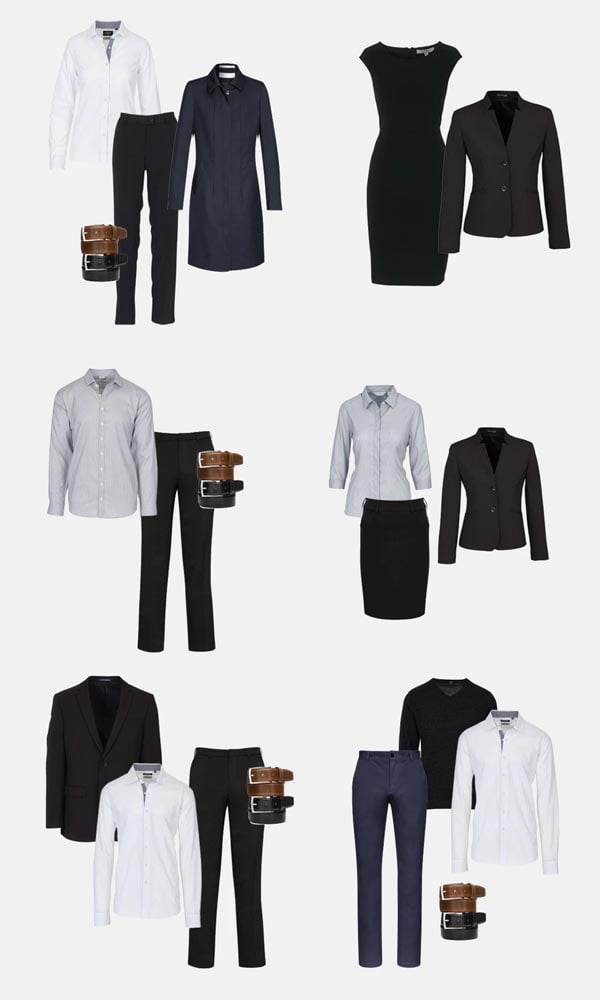 If you are looking to introduce a corporate uniform into your business, or you are looking to refresh your look for 2018/2019 and beyond, talk to the team at Total Uniform Solutions for some inspiration and guidance. We can help curate a look that will suit your business and brand. Book a Signature Style Consultation.