Best Positions For Uniform Embroidery
At Total Uniform Solutions, we offer an extensive embellishment service to all our customers. There are more options than you can point a stick at, so we've made it super simple for you and created a Cheat Sheet with all the embellishment positions you can choose from. We've even specified which embellishment type you can use – embroidery, thermo printing or direct to garment printing.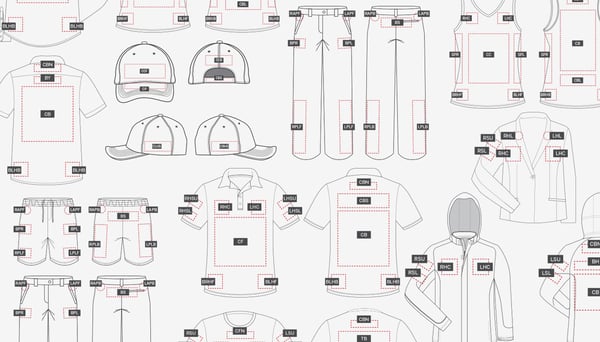 How to supply your logo for uniforms?
In order to achieve the best possible result, your logo or artwork file should always be supplied in vector format. We can accept raster format – if the resolution is sufficient for print and it is suitable for the embellishment method you have chosen.
Vector Format:
A vector file can be scaled to any size without any loss of quality. Logos not supplied in vector will attract a re-draw fee for each file.
Raster Format:
Raster files are built up of small squares called pixels. This means that as you increase the size of your image, it will become blocky, or appear to be blurred. Resolution should be at least 240dpi at 100% of actual size.


What size should your logo be on your uniform?
Where possible, supply the artwork at 100%. We will always recommend the idea sizing for your chosen garments, however if you have a specific requirement talk to your account manager when you place the order. Specify sizes in millimetres (mm). When specifying logo/images, always use the width (W). Text/font sizes must be specified in height (H).
Fonts:
Fonts to be converted curves/outlines, or supply font files with order. A conversion fee will apply if not supplied or converted to curves. All font sizes are to be specified in height (H) in millimetres (mm) when you place your order.
Personalisation:
If you are adding names or words to your garments, you MUST specify the font, size and colour. We need to know the font, height (mm), colour and position.
Colour Variants:
We prefer the logo or artwork is supplied in CMYK, PANTONE or MONO colour variants. If specific colours are required, the Pantone colour must be provided. We will endeavour to match the embellishment to your Pantone colours. In some instances, a single colour version of the logo or graphic is desired for high contrast. For example, this might be for a white logo on a dark shirt. Always specify the colour(s) you want when placing your order.
Planning the embellishments typically happens once you have engaged your uniform provider. If you are still at the early stages of planning a uniform refresh, check out our blog called "Your Uniform Design Brief Made Easy" which breaks down the uniform brief process, and includes a workbook to help you plan your new uniform like a pro! You might also be interested in our article Understanding Embroidered Uniforms for more insight into the embroidery process.